An interview with Danny Weis from Blitz magazine Number 37/ July/August 1980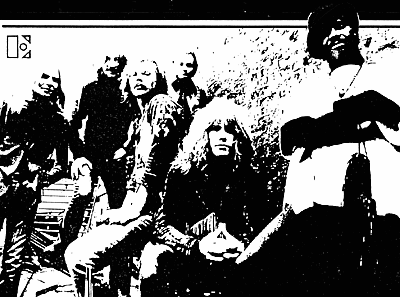 Rhinoceros 1969

(Editor's note: Danny Weis served as lead guitarist for Rhinoceros, the Elektra band which enjoyed moderate success late in 1968 with their "Apricot Brandy" single. Weis later became a member of Blackstone, and most recently surfaced as a featured guitarist in the Bette Midler film, "The Rose". John Mars tracked down Weis in Toronto, where this interview was conducted earlier this year.)

Blitz: The first Rhinoceros album was recorded all in live takes, correct?

Weis: That's right. At the time, all the big groups like Cream and the Jimi Hendrix Experience were doing overdubs on all their things. with something like nine guitars floating back and forth across the speakers on each track. I was the first in Rhinoceros to want to try. for a live sound with all the advantages of the studio. Michael Fonfara thought It was a good idea too, and later all the other guys thought It was a good bet. The way we knew all our stuff then, it just made sense to play like that. We recorded that album in Los Angeles.

Blitz: Most of the press coverage of Rhinoceros of the time dubbed you a "supergroup".

Weis:To my knowledge, that was the first time that the catchphrase "supergroup" was used by the press. of course we all know what damage record company promotion can do sometimes. They'll say, "So and so was formerly with the Doo-dads", or something like that to build it up. Who needed it? We were just a band. The record company did all that stuff. Remember how Moby Grape was built up at the same time? Just a big build up. Nobody needed it.

Blitz: Unfortunately, with all of that build up, people will think a band who rejects it is not capable of living up to it.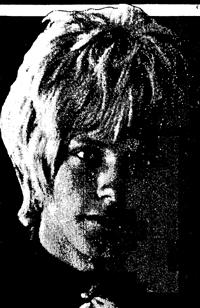 Danny Weis 1968

Weis: That's it! But at least the music never suffered. We were very soulful together. Despite all that music industry crap, we really tried to relate to one another as musicians. Paul Rothchild conceived us and saw us as the supergroup, but we still managed to play music. A lot of groups that were invented like we were, the ones that don't even know one another to begin with, just end up firing off their best riffs at one another, We were all strangers, but on the first Rhinoceros album we tried to communicate with each other.

Blitz: "When You Say You're Sorry" from the first album carried a lot of punch. What tracks from that album stand out in your mind?

Weis: I liked all the early things. "When You Say You're Sorry" was really where it all got started. We used it as the flip side for "Apricot Brandy" as a single. All of the ballads appealed to me. "I Need love" was always exciting to do in concerts. "Belbuekus" and "You're My Girl" came off well. Basically, I was happy with everything on it. John and Alan sang their hearts out.

Blitz: Why do you think that "Apricot Brandy", an instrumental, became a big hit when you had two great singers in the band In John Finley and Alan Gerber

Weis: That's just what happened, that's all. It was a hit and we were all glad for It.

Blitz: "Satin Chickens" was a great follow-up album. Elektra probably overpressed it, resulting in it ending up in the cut-out bins so fast, but It's a very good effort, at least on par with any of the Stax-Volt output of the time. "in A Little Room" especially stands out as being so casual, yet so full of soul. One of the things about that album that made It great was the way the various cuts flowed into one another.

Weis: For me personally, "Top Of The Ladder" worked best on that album. The recorded sound is quite good on that one. "Top Of The ladder" had a certain flow between Michael Fonfara's organ and the vocals. My solo wasn't anything special. That album is the classic delete bin item.

Blitz: Doesn't that prove Its validity to you?

Weis: Okay, It was ignored. At the time it meant we were back and we knew each other better. Some people said we'd slumped after the first record. We were just trying to kick out a message that had to do with love. It was a message for everybody.

Blitz: You continued with that message when you did the "Better Times Are Coming" album. The Rascals had a world peace effort going on at that time. Did they have an influence on Rhinoceros?

Weis: Of course! The groups were trying to instill a positive influence then, and the Rascals were definitely an influence to us. Their "People Got To Be Free" and "A Ray Of Hope" singles were very important.

Blitz: Your contributions in that respect were "Better Times" and "it's A Groovy World".

Weis: We just tried to contribute the message we believed In. I love the two tracks you just mentioned, but my favorite track from "Better Times Are Coming" would have to be "Let's Party. "Somewhere" was also a nice cut from that album. The band had changed quite a bit for that album. When Duke Edwards joined us, he contributed quite a few songs and did a lot of singing.

Blitz: Most of all, Rhinoceros had a real visual image. You looked great on stage.

Weis: We had a blast at live gigs. At a gig at the Summer Garden in Port Dover, Ontario in 1970 with Chuck Berry, I remember everyone from the back of the hall screaming "Need Love! Need Love!" at me and Peter Hodgson all the way through our set. But Chuck Berry was really the king that night. "Nadine" was really too much! I have a lot of good memories with Rhinoceros.




John Mars, the writer of this article is a singer/songwriter who's latest CD "Whasup?" features Michael Fonfara from Rhinoceros, on Keyboards.
For More Information and CD details go to:
http://www.johnmars.com/
---

---