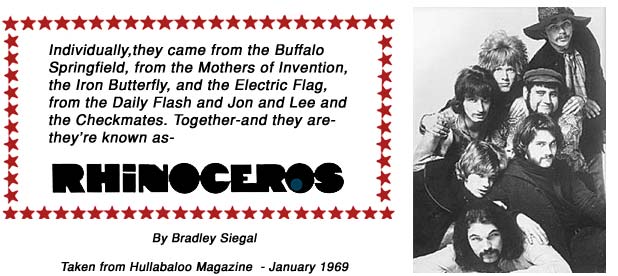 At best, Rhinoceros must be seen. They are more than a band, they are a show. They perform like the professionals they are, dressed in their best and playing their hearts out. Billy beats the thump and staccato out of the drums. His eyes rolling from the excitement. John dances about, favoring the edge of the stage, singing to the audience and not to the hand mike. Danny Weis, sleek and smirking, minces and bobs with the guitar, aware at all times of his visual impact, Jerry throws a mean bass line around, and Doug puts a lot of body English into the sweet bluesy runs he pulls from out of the guitar. Michael looks like a somber little rabbit, intent behind the organ, and Alan just grinds into the electric piano when he's playing. When he's singing up front with John. he adds a soulful harmony to the fiery wail.

The band has completely blasted the concept that showmanship and sincerity are incompatible elements in a pop group. It's a sign of recognition that people don't go out of their way to see a group dressed in street clothes, slouching indifferently all over the stage, although rock audiences are loving enough never to have objected. Rhinoceros puts out and loves every minute of it and it really shows.

Rhinoceros-a ponderous beast which horned out of Toronto, lumbered down from Seattle, checked out Chicago's South Side, and hung around California for a while, getting itself together before routing up a few Bleecker Street undergrounds. Heavy. A little indelicate at times-but very, very solid.



They were to be the supergroup, a collection of the seven best musicians that producer Paul Rothchild could find. He found them in California, Seattle, Chicago, New York, and Toronto, brought them to Los Angeles, installed them in Elektra's new recording studios, and told them to work it out. And that's what they did.

It was not a very original idea. "What would happen," begins many a post concert bull session, "if you took the best musicians that you could find, locked them in a room together, and threw away the key?" What indeed? Chaos? Nirvana? Murder?

But if it was not an original idea, it was as yet an unrealized one: a figure of speculation too rich in potential to remain untried. Rothchild found John Finley, a cherub-faced vocalist with a voice like a Pterodactyl in heat; slight, dark Michael Fonfara, a monster organist; Alan Gerber, a writer, pianist, and rock 'n' roll crooner; guitarist Doug Hastings and his "country funk with classical fantasies"; energetic bassist Jerry Penrod; drummer Billy Mundi, late of the Mothers of Invention and the Los Angeles Philharmonic Orchestra; and guitarist Danny Weis, who has been described as a close double for one of Freddie Neil's ex-old-ladies- and you know that she must have been a beauty.

Their backgrounds range from college-classical-composition major to Mothers-of-Invention weird, their environment was the physically elegant and metaphysically mysterious recording floor of Elektra's California studios (while John Haeny was busy getting the bugs out of the console, the Super Seven were getting the bugs out of their music), and the object of the experiment was a super-group-with a small s, you see, because "super-group was an idea before it was anybody's music, and was never really considered as a name (not Supergroup).

Well, to ruminate, it was the summer of 1968, Clear Light was breaking up, the Holy Modal Bounders were practising in the back room when Tom Rush wasn't rehearsing for his opening at the Troubador, and these seven guys were working in the studio, when word leaked out, as word is known to do in Los Angeles. "Supergroup" was quickly and modestly changed to Rhinoceros courtesy of Alan, who for all his life has been an avowed Rhino freak.



Meanwhile, back at the studio. changes were going down. In the first few months they were together, the individual musicians were fascinated by complexities, impressed with their status, and ignorant of each others musical strengths. They were showing off their chops, putting down as many tricky licks as they could fret, barnstorming through changes in time and tempo, and generally bringing the walls down with seven simultaneous symphonies for solo super-musicians. It didn't come off, of course. It would be utterly lost on a stage and totally irrelevant to an audience. Much of it, they admitted, was unnecessary. The rock scene had become a barrage of spaced-out, freaked-up electronic assaults on the sensibilities, and they didn't want to start out where everyone else had left off.

So it was back to the drawing board in midstream-and back to the basics. They worked out a new concept, one firmly rooted in the basics of music and the rudiments of rock, of simple perfect structures. The result their first album, Rhinoceros (Elektra) - is an immensely satisfying disc full of funk and gospel with a shade of soul, blue in some parts, black in others, with an insistent animal beat that brings it all back home. It has simplicity, humility, personality, and sex.




Many Thanks to Jeff Watt for this article.
---

---