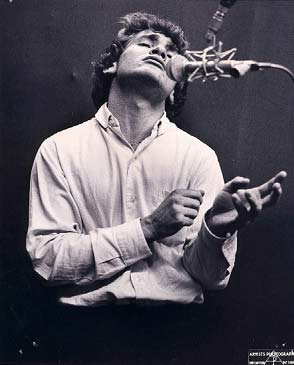 John Finley performing in the studio - 1966.
(Picture courtesy of Jeff Cutler)
For nearly four years, Jon and Lee and The Checkmates reigned as one of Toronto's hottest live acts, thanks to a kick ass rhythm section and the gospel-inspired vocals of (arguably) Canada's finest soul singer. The band's legacy however, travelled far beyond the city's limits, creating loyal followings in New York and Philadelphia.

And yet a series of crippling setbacks - missed opportunities, internal strife, and the threat of legal action, which prevented the group from issuing a single until three years after its inception, meant that The Checkmates would never receive the accolades enjoyed by their contemporaries. The fact that most of the band wound up in the highly touted, but ill-fated Elektra supergroup Rhinoceros, merely obscures the significance of this exceptional band. Yet back in the summer of 1964, when the recently re-named Jon and Lee and The Checkmates kicked up a storm at the Canadian National Exhibition under 21 club, it seemed that the group's rise to the top of the ladder was assured.

Interestingly the original Checkmates, formed at a local high school during 1963, bore scant resemblance to the outfit that would later entice Elektra's Paul Rothchild and Motown's Berry Gordy to fly up to Toronto to check out the band. Originally known as Lee Jackson and The Checkmates, the early line up centred on singer Lee Jackson (real name: Michael Ferry), who completed the group with lead guitarist Al Dorsey; bass player Dave McDevitt; drummer Paul Carrier and a saxophone player called Hilmar. Soon afterwards, Dorsey introduced classically trained pianist Michael Fonfara (b. Aug.11, 1946, Stevensville, Ontario), whose keyboard dexterity added considerable depth to the band's sound and signalled the first of many personnel changes, ultimately resulting in The Checkmates becoming one of Toronto's finest purveyors of R&B.

By the spring of 1964, the transformation from competent high school band to leading R&B attraction had been set in motion thanks to the arrival of lead guitarist Larry Leishman (b. Apr. 4, 1947, Dunfermline, Scotland) and bass player Peter Hodgson (Apr. 1946, Toronto) from Aurora, Ontario band The Tempests. However, it was Leishman and Hodgson's decision to bring in The Tempest's former lead singer (and Hodgson's cousin) John Finley (b. May 6, 1945, Toronto) that would ultimately give The Checkmates an edge over their rivals. As Finley recalls however, the decision to recruit him was not unanimous: "Lee wasn't thrilled at the idea, but all the guys overruled him and he came to accept me. We found ways to compliment each other with common ground and separate identities."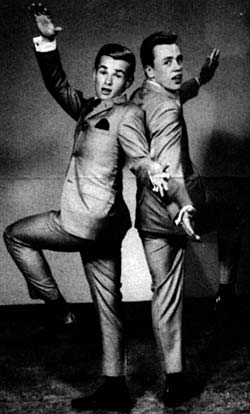 A young Jon & Lee.
(Picture courtesy of Craig Webb)

Jackson certainly had cause to worry, not only did Finley posses a powerful gospel-inspired voice, he was also a dynamic performer who would captivate an audience with his soulful renditions of R&B songs like James Brown's 'Please, Please, Please'. Finley's arrival coincided with a name change and from this point on the band would be known as Jon and Lee and The Checkmates.

If The Checkmates' initial rise to local stardom was hampered by anything, it was the group's inability to find a steady drummer. During the first few months of 1964, the group saw a succession of drummers pass through: Carrier's replacement, Dave Brown, quickly traded in a career in music to become an architect and was succeeded by future Majestics member Wes Morris. It wasn't however, until late 1964, six months after Finley's arrival that former commercial artist Jeff Cutler (Sept. 8, 1941, Toronto) joined to complete the "classic" Checkmates line-up. Slightly older than the others, Cutler would subsequently become the group's elder statesman and guiding force.

The "new look" Checkmates didn't take long to make an impression; following weeks of intensive rehearsals, the band's dynamic set stole the show at an early 1965 Massey Hall concert with Jack London & The Sparrows (who later morphed into Steppenwolf), and bookings immediately flooded in. The exposure from the Massey Hall show attracted the attention of Afro-American and New Orleans émigré Eddie "Duke" Edwards, a drummer/vocalist, who had connections with several significant players in the American soul music community, and Big Land music agency entrepreneur, the late Ron Scribner. Edwards, a graduate of the Boston Conservatory was impressed by The Checkmates' "authenticity" as a white act playing R&B/soul, and agreed to arrange some material for them.

Edwards however, was not alone in recognising the band's talents. Following The Checkmates' debut appearance at Toronto's Massey Hall in February 1965, the band's fortunes took a dramatic upturn. Cecil Farrell, a proprietor at a Niagara Falls newspaper, had caught the group's set and duly hired the band for his 16-year-old daughter's birthday party. More importantly, he put the group in touch with Leo Pillott, director of public relations for the ABC-TV network in New York, the upstart of which was that the group landed a prestigious US deal at a time when most Canadian bands were struggling to find a foothold locally. After hearing sample tapes, Pillott immediately offered to represent The Checkmates and arranged a series of engagements in New York and Detroit.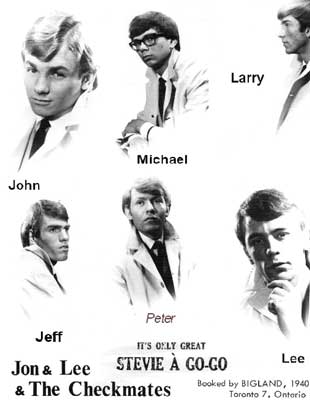 Jon & Lee & The Checkmates publicity poster.
(Picture courtesy of Craig Webb)

By this point, the group had become residents at Toronto's Avenue Road club, owned by local businessman Murray Campbell, who would co-run the group's management with Edwards. The Checkmates' proceeded to establish a solid reputation at the club, and due to public demand got the opportunity to join several local acts in opening for The Rolling Stones at Maple Leaf Gardens in April. Cutler has vivid memories of the band's opening slot for the visiting British dignitaries. "The first time we opened for the Stones, the organisers booked too many groups and those that had gone on already had stayed on too long. When it was our turn to play, John went on stage and sang just one line and the place went nuts. The riot lines broke and we had to get off the stage. We never even got to play!"

Similar displays of public support were regular features at the group's shows during this period, although arguably the most memorable was an event held in downtown Toronto that September to mark the opening of the new city hall. As Nicholas Jennings noted in his book Before the Goldrush, the group was hired to open the celebrations for local pop singer and TV personality Bobby Curtola and proceeded to tear the place apart. "Drawing from its usual medley of R&B covers, from The Isley Brothers' 'Shout' to Junior Walker's 'Shotgun,' Finley's group worked the crowd of 60,000 into a frenzy. When the band hit its climax on James Brown's 'Please, Please, Please,' the audience suddenly surged forward and Toronto mayor Phil Givens tried to stop the show." The mayor's efforts were all in vain, however. When Givens jumped up on stage and grabbed Cutler's cymbal, the drummer responded by whacking the mayor across the knuckles and the group carried on playing. After completing its set, the band was chased to an awaiting limousine by hundreds of adoring fans, in a scene reminiscent of The Beatles' A Hard Day's Night.

The following month, The Stones returned to Toronto for a second appearance at the Maple Leaf Gardens, and The Checkmates were duly hired to open the show. On this occasion, the band not only managed to perform a full set but also, according to Cutler, whipped the audience in to such a frenzy that the headliner's performance was delayed by nearly an hour. "The Stones had to stay in the dressing room for a good thirty to forty minutes to let things cool down as we had caused a riot. That's a sign of being upstaged."

Local demand for the band quickly attracted interest from further afield, and around the time of the second Maple Leaf Gardens show, the group was approached with a number of offers, both from US giants like RCA and also from small indie labels such as Elektra. One individual who expressed a particular interest in the group (and who was to play an influential role in Finley's career) was future Doors producer Paul Rothchild. "Paul made a tentative pitch to us but we had our young eyes on bigger dreams than a small indie at the time and had some industry establishment types interested in us," admits Finley.

Besides an offer from RCA, heavyweight labels Decca and Motown, which subsequently signed another local band, The Mynah Birds (best known for including Neil Young and Rick James) expressed an interest in The Checkmates. Like Rothchild, Motown president Berry Gordy ventured north to check out the band but as Cutler points out: "The word on the street was that he didn't pay any money."

When The Checkmates did get the opportunity to record however, Finley admits that the group struggled to recapture their dynamic live shows on tape. "RCA had us go in and record in Toronto but it turned out poorly. Decca had us do the same in New York with somewhat better results but lost interest in us." (The group recorded three tracks with Decca in December 1965.) Cutler concurs with Finley's assessment and points out that The Checkmates were a little in awe of the whole recording process: "It's a shame we never got better recordings. We never really got in to a studio and when we did we thought it was like church (white folks' church, that is). We were really uptight."

The band's failure to secure a lasting deal however probably had more to do with a disastrous meeting with Kama Sutra president Hal Mensurahi. As Finley recalls: "Kama Sutra expressed a great desire to sign us but offered us a horrible one way contract that we and our representatives both expressed a desire and willingness to renegotiate. Hai Mensurahi, president of the label, met us in his company suite and told us there could be no negotiation - 'take it as is'. He said that if we didn't, he would ruin us by having his legal department tell every interested company that we were signed exclusively to them and that any engagement on their parts would invite aggressive legal action. Needless to say, everyone backed off, not wanting to call his bluff over an unproven commodity and so we were fucked."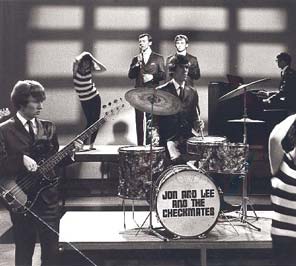 TV performance - 1966.
(Picture courtesy of Jeff Cutler)

Despite the setback, the group was beginning to play gigs outside Canada and through Leo Pillott, got the opportunity to record a soundtrack for the Batman TV series, which was captured, according to Cutler, live at New York's famous Peppermint Lounge. The band was also proving inspirational to a host of American bands, vying to capture a niche in the emerging white R&B/soul market. Cutler remembers Mitch Ryder and The Detroit Wheels dropping by the Devil's Den in Toronto in late '65 to catch the group's set. "The group's guitarist, Jim McCarthy, later told me that Mitch took the group to see us at the Devil's Den. They taped our entire set that Saturday night, went back to Detroit on the Sunday and recorded 'Jenny Takes a Ride'. That was definitely a Checkmates' influence".

Although 1966 proved non-eventful on the recording side, The Checkmates did get to tour the US on a more regular basis and established pockets of support in New York and Philadelphia. While in the Big Apple, the group became regulars at the Peppermint Lounge and the Phone Booth and on one memorable occasion opened for The Temptations, The Chiffons and Junior Walker & The All Stars at Shea Stadium. Throughout this period The Checkmates continued to work from their base in Toronto, where (alongside rivals, the Mandala) they spearheaded the city's vibrant R&B scene.

However, in the spring of 1967, the band relocated to Philadelphia, and, as the newly named Jon-Lee Group, spent the next few months undergoing a significant transformation both visually and musically. Army combat jackets, jeans and capes replaced the band's matching satin suits, while the band's penchant for R&B favourites such as 'Please, Please, Please' and 'Respect' was eschewed to accommodate a growing emphasis on original material. The Checkmates' music also shifted towards a more gritty, heavy rock 'n' roll style. When the group briefly returned to Toronto that summer for a show at the Hawk's Nest, many loyal fans were dismayed by the recent changes.

Amid all this activity, an important production deal was struck with Daniel Secunda (brother of Procol Harum's manager Tony Secunda), which enabled the band to finally venture back in to the studio and record enough material for two singles. Four tracks were laid down in New York that spring, during a brief visit to the city to play at Steve Paul's famous club, The Scene.

A cover of John Sebastian's 'Girl, Beautiful Girl,' picked from The Lovin' Spoonful's soundtrack album, 'You're A Big Boy Now,' should have been the band's long awaited debut single, but for some inexplicable reason was shelved. In its place, the group's American label, ABC, released the soulful 'Bring It Down Front', backed by the catchy instrumental 'Pork Chops' (originally entitled 'Fuck Up').

The a-side composed by Billy Barberis and Bobby Weinstein, two successful songwriters working for Secunda's production company, provides a wonderful vehicle for Finley and Jackson to exchange vocal leads and captures the band's unique brand of R&B/soul perfectly. Finley credits the songwriters for providing much needed support during this period. "They were wonderful people who really believed in us and were unafraid to call Mensurahi's bluff."

The single's b-side, which was credited to Duke Edwards (Fonfara claims it was actually the product of a group jam), offers an interesting contrast to the a-side and is punctured by three excellent solos (guitar, organ and bass). Cutler's funky drumming is the "icing on the cake" and drives the song along at a frantic pace. The track is also a pointer to Fonfara's future work with Rhinoceros, predating the instrumental funk of that band's signature tune, 'Apricot Brandy.'

Although 'Bring It Down Front' missed the US charts completely, it proved to be a sizeable hit back home when issued on Sparton that August. Loyal Toronto took the single to #10 on the CHUM chart, and two months later 'Bring It Down Front' peaked at #23 on the national RPM chart.

However, behind the scenes, the group was coming apart, as drugs entered the picture and personal differences and changing priorities undermined the group's solidarity. Returning to Toronto at the end of August, the group began its last series of performances with a house band gig at the Strawberry Patch, a coffee-house/club in the city's Yorkville district. Commenting on the split between the singers and the group, Cutler reveals: "I think the combination of the race riots in Philly and doing acid that summer was too much for John. He said he didn't want to sing anymore. Also John and Lee had been told by Daniel Secunda to get a bigger band with horns like The Righteous Brothers. That's probably the real reason why John didn't want to do it any more."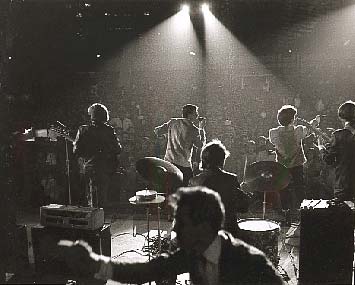 TV performance - 1966.
(Picture courtesy of Jeff Cutler)

When asked about the end of the group, Finley remembers that LSD may have played a part. However, he also stresses that Secunda was pressuring the band to come up with "world class" original material, which "we weren't ready to do", and that an alternative was presented for the singers to leave the band and work with other people more "plugged into the song-writing scene". This together with the drug experience left Finley overwhelmed and dismayed. Lee meanwhile, was losing interest in being a singer in the kind of environment he now found music to present and subsequently left to become a local promoter. When the band split, the four players went to New York while John and Lee went their separate ways back to Toronto.

Despite the differences, Cutler claims the band's raw energy and ability to impress live were maintained to the end. "I have a tape from '67 when we hated each others' guts, but we were just carpet bombing the place." Summing up the personalities, Cutler adds: "It was always like trying to keep nuclear fission together. It was rough. Every night John would say he didn't want to sing anymore and then he would go out and sing his ass off. Larry would keep hitting him to keep him in line. Peter was sleeping all the time and was very introverted at that point. Lee was a maniac and Mike was always late. I'm quite sure I was a bundle of problems."

While Finley spent the next few months in Toronto reassessing his career, the group accepted an offer from Steve Paul to return to New York and work as the house band at The Scene. Adopting the name, The Phoenix, the group quickly attracted the attention of fellow Canadian David Clayton-Thomas, an old friend of Leishman's who was working in New York as a solo artist but looking to front a new band. Thomas subsequently adopted The Phoenix as his new support group, but the arrangement only lasted a few weeks (early-late October) as Cutler explains: "David came to us at the Scene when we were already working as The Phoenix. A short while later Nat Weis (who briefly managed The Beatles immediately after Epstein's death) came in and said: 'Look, I'm a divorce lawyer, I don't know anything but everyone tells me you guys are hot so I'm going to sign you.' We said 'that sounds great' and arranged to meet him the next day. Anyway this other guy called Andre wanted to be our singer and he knew that David's work permit had expired, so he 'dropped a dime' on him (called immigration) that same night and David got deported. I phoned Nat Weis the next morning and he told me: 'Get your act together. There's no business until everyone's out of jail, have a nice life and that was it. It's funny how news travels.'"

Thomas' deportation also signalled the end of The Phoenix. In the preceding month, Finley had been contacted by Paul Rothchild and invited to Los Angeles in mid-November to audition for his project super group. The Doors' producer had also expressed interest in Hodgson and with The Phoenix lounging around in New York "twiddling their thumbs", Finley's cousin eagerly accepted the offer to join Finley in Rothchild's project.

Around the same time, Fonfara was poached by his old friend Buddy Miles to replace Barry Goldberg in The Electric Flag (he ended up touring with the band for a month and appearing on the group's debut album). Leishman meanwhile returned to Toronto and briefly played with Bobby Kris & The Imperials, before co-fronting the rock bands Freedom Fair and The Power Project with former Mandala keyboard player Josef Chirowski. Cutler, who had remained in New York after the band's split, played a few East Coast gigs with The Jefferson Airplane (filling in for an absent Spencer Dryden) and later rehearsed with an embryonic version of Hot Tuna. During the summer of 1968, he landed a gig with The Crazy World of Arthur Brown replacing Drachen Theaker, and also acted as Brown's stage designer (Brown's 13 costumes, his winged helmet with rotating day-glo globe and slithering snake and 6' diameter astrological rotating wheel are among his creations.) Following some UK dates in late summer, Cutler moved into management and for a brief period co-managed Arthur Brown, before returning to New York to work with The Holy Modal Rounders.

The Checkmates' story however, doesn't end there. In December 1967 John Finley and Michael Fonfara (who had been elbowed from The Electric Flag after being caught in possession of marijuana) were recruited for Paul Rothchild's project super group (Hodgson was passed over in favour of former Iron Butterfly bass player Jerry Penrod). Together with Chicago-born singer/songwriter Alan Gerber, ex-Mothers of Invention drummer Billy Mundi and guitarists Danny Weis (ex-Iron Butterfly/Gentle Soul) and Doug Hastings (ex-Daily Flash/Buffalo Springfield), the project subsequently became better known as Rhinoceros. Following the group's excellent debut album, which was clearly an extension of The Checkmates' recent music, Peter Hodgson finally took the place in the band that was originally his. (In the interim, he had recorded with David Clayton-Thomas Combine and Jackson Browne). When Alan Gerber, Doug Hastings and Billy Mundi left the band in the summer of 1969, Jeff Cutler was instrumental in bringing Larry Leishman into the group, as well as The Checkmates' former manager Duke Edwards. Both had been active in The Duke Edwards Cycle for a year, but neither could revive the group's flagging fortunes.


The Checkmates at The Orbit Room Toronto - Oct 3rd 2000.
drums: Mike Sloski, bass: Peter Hodgson, guitar: Larry Leishman, organ: Michael Fonfara

Since the break up of Rhinoceros in July 1971, the former Checkmates have only played together on a handful of occasions. In 1972, the band (minus Cutler and Jackson and with former Rhinoceros guitarist Danny Weis, Canadian singer Zeke Sheppard and New Yorker Richard Steinberg - later to be Atlantic Records A&R V.P.) recorded as Blackstone. More recently, founding members Michael Fonfara, Larry Leishman and Peter Hodgson have revived The Checkmates name with former Bruce Cockburn drummer Mike Sloski taking Cutler's place and have played regularly on the Toronto scene since 1999. John Finley, however may be joining the group for some new recordings this year. Also according to Jeff Cutler, British guitarist Chris Spedding has expressed an interest in piecing together a CD of The Checkmates' '60s material. Perhaps then, this highly underrated and overlooked band will finally receive its due.
---
(December 2005)
The Checkmates have reformed and are working together again in and around Toronto, Canada, the lineup is: Michael Fonfara (Hammond B-3 organ/vocals), Larry Leishman (guitar/vocals), Mike Sloski (drums), John Finley (lead vocals) and Peter Hodgson (Fender bass).

John Mars has been catching up with the band and has posted the latest news, including details about their first album recording on his site: A review of the Checkmates' recent activities and some current pictures.
---
Many thanks to Jeff Cutler, John Finley, Peter Hodgson, Michael Fonfara, Larry Leishman and Duke Edwards for helping to piece the story together.
Copyright © April 2001 Nicholas Warburton
Nick can be contacted at: nick_warburton@hotmail.com